Hervé Van der Straeten : the quest of perfection
Designer Hervé Van der Straeten is one of those men whose path seems to have been planned since childhood. his love for drawing and desire to express himself creatively was evident early on. At the age of 19, while still a student at the National School of Fine Arts in Paris, he started his own company and set in motion a career in jewelry design.
By Stephane Le Duc
For the past 15 years, Hervé Van Der Straeten has been producing furniture and lighting in his workshops. His work is fascinating and audacious; it combines modern and classical aspects in an ode to great cabinet-making. Hervé Van der Straeten is, without a doubt, one of the most brilliant designers of his generation, one who never ceases to amaze.
In his early days, he was known for the jewelry he created for Isabel Marant, Christian Lacroix, and Thierry Mugler. His transition to furniture was a "normal evolution," and a dream of his since adolescence. "I had my jewelry workshop where everything was made by hand. I started making small bronze objects, which require relatively similar techniques. A jewel or a bronze candlestick require a relatively similar approach. There was a change of scale, which occurred over four or five years. I opened the gallery in 1999, and really started adding furniture and cabinet-making." The gallery, which is located in Paris's Marais district, allows him to experiment, express himself in complete freedom. Here, he can present unique pieces and limited series that seduce many collectors and international decorators. He states, "The gallery was essential because, as a child, I wanted to draw, and when I started making furniture, I knew what I wanted to create, and how to do it. I always have a fairly precise vision of things. A gallery allowed me to present my work in a coherent and complete way. Because with new materials, the collections complete each other."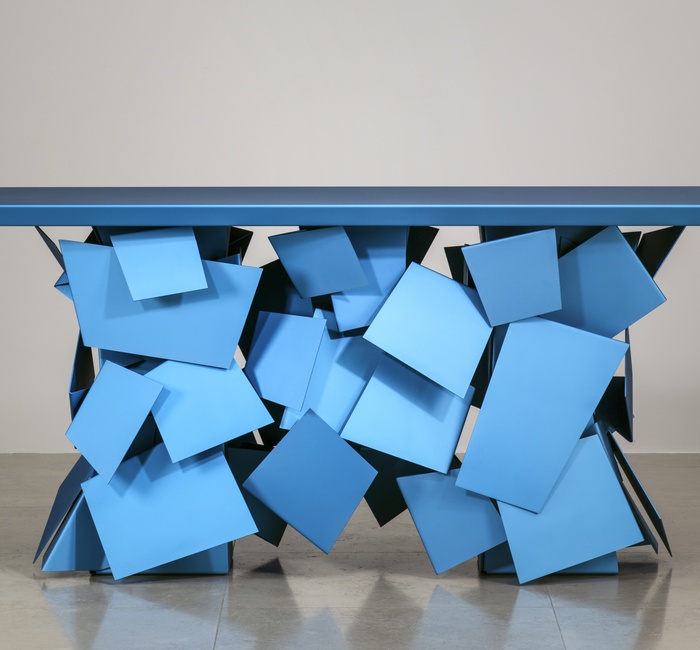 The Parisian creator enjoys working with marble, crystal, stainless steel, and glass. He has mastered the lightness of carbon fibre and even plexiglas: "Every exhibition gives me the opportunity to study and work with new materials. For instance, this year, I worked with plexiglas as well as iridescent glass. It becomes a simultaneous dialogue between ordinary materials that are magnified, like a brass pipe or plexiglas, and tradition, like furniture made of parchment, lacquer or bronze, or straw marquetry. There's always a dialogue between traditional know-how and more industrial things." His quest for perfection has led to the resurrection of bronze and cabinet-making workshops in Paris, as well as the conferral of a Living Heritage Company label. In 2008, he was a recipient of the insignia of Chevalier of the Order of Arts and Letters, and was commissioned for the Elysee Palace. According to Van der Straeten, "We can push the quality of the furniture much further because I have my own bronze and cabinet-making workshops. We go as far as designing our own hinges for furniture, our own technical pieces. There is also a concern for durability over time, because our furniture pieces can all be dismantled. It's an important detail because well made furniture allows a collector to refurbish a piece after a certain number of years."
This attention to detail and perfection is similarly sought after by Ralph Lauren, who considers Van der Straeten one of the best French designers. Both Diane Von Furstenberg and architect Peter Marino also use his creations in their decor. "My furniture pieces have all sorts of shapes, but, in general, they encompass one idea." He goes on, "take for instance gold tubes, a bronze step and a tray. The materials and the colors are there to accentuate the idea. In general, they remain simple things. There is no overload. I don't want my pieces to be too talkative. They are designed for environments where they can engage in a dialogue with other pieces. Whether those other pieces are mine, whether they are pieces of art, or maybe even antique furniture pieces, there is a purity which leaves room for an eventual dialogue. Yet, they are strong pieces that possess their own logic." Are there still projects awaiting this talented artist? "There are always new challenges to take up… maybe one day I will design a building and trigger another change of scale."